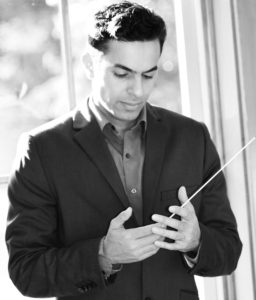 Described by the critics as "magician on the podium" and "the man of exceptional charisma" (Performing Arts Monterey Bay), with "the ability to connect with invisible worlds and to bring them alive in the music" (Herald), Farkhad Khudyev, has been recognized by the government of the United States as an Artist of Extraordinary Ability.
Farkhad was born in Ashgabat, Turkmenistan, where he first studied violin, piano and composition at the State Music School for gifted musicians. At the age of 10, he distinguished himself as the youngest performer selected to play with the National Violin Ensemble of Turkmenistan, and toured around Central Asia and Eastern Europe. As a soloist and a member of the Ensemble, Farkhad performed for the Presidents of France, Ukraine, Russia, Turkey, Kazakhstan, Uzbekistan, and Turkmenistan. At the age of 12, he was chosen to represent the country at the International New Names Festival, sponsored by the Moscow Conservatory, and was named as one of the most promising young musicians at the festival.
In 2001, Farkhad came to the United States to study at Interlochen Arts Academy and then completed his Bachelor of Music degree at the Oberlin Conservatory. He received his Master's degree in orchestral conducting from Yale University.
Mr. Khudyev is the winner of the 3rd prize at the 2017 International Sir Georg Solti Conducting Competition in Germany, the Best Interpretation Prize at the 2015 1st International Taipei Conducting Competition in Taiwan, the Gold Medal and Grand Prize at the 2007 National Fischoff Chamber Music Competition in the U.S.A., as well as the First Prize at the Yale Chamber Music Society Competition. Mr. Khudyev has performed around the United States, Europe and Asia at world-class venues and festivals including the Kennedy Center in Washington D.C., Emilia Romagna Festival in Italy, the Alte Oper Frankfurt Großer Saal (The Old Frankfurt Opera Great Hall) and the Mecklenburg-Vorpommern Festpiele in Germany.
Farkhad's performances are described as "true, powerful, ecstatic and utterly riveting" (Herald), "graceful, very sensitive…" (Frankfurt Neue Presse), and "a triumph in every sense of the word" (New York Music Daily). Admired for "meticulous guidance, superb musicianship and extraordinarily imaginative interpretation" (Performing Arts Monterey Bay), Mr. Khudyev has worked with the London Philharmonic Orchestra, Frankfurt Radio Symphony Orchestra, Frankfurt Opera Orchestra, San Diego Symphony, Monterey Symphony, Champaign-Urbana Symphony, Yale Philharmonia, Yale Symphony Orchestra,  Greenwich Village Orchestra of New York City, New Jersey Youth Symphony, Manhattan School of Music Orchestra, National Orchestra of Turkmenistan, and the State Taipei Chinese Orchestra. Farkhad has served as the Assistant Conductor of the London Philharmonic Orchestra, the Music Director of New Jersey Intergenerational Orchestra and the New Haven Chamber Orchestra, as well as the Associate Conductor of the Hidden Valley Opera. Currently, Mr. Khudyev serves as the Music Director of the Hidden Valley Orchestra Institute and Youth Music Monterey County in California.
Farkhad resides in Monterey, California, where he enjoys spending time with his Family and Nature.